"
I believe, therefore, that although it is not the case today, that there may some day come a time, I should hope, when it will fully appreciated that the power of governments should be limited; that governments ought not to be empowered to decide the validity of scientific theories, that this is a ridiculous thing for them to try to do; that they are not to decide the description of history or of economic theory or of philosophy.
"
Richard Feynman
,
The Pleasure of Finding Things Out: The Best Short Works of Richard P. Feynman
---
Global warming likely to reduce the habitat for native Hawaiian birds in future.
Avian malaria is a vector borne disease that is transmitted by mosquitos. So far high elevation native forests provide save environments for native/endemic Hawaiian birds. But with future warming the 'safety-line' will move up the mountains and leave less forest habitats for unique species like the I'iwi.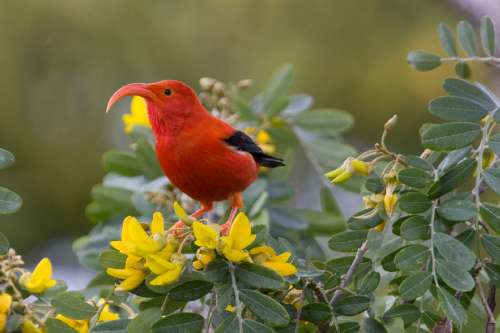 A warm climate is more sensitive to
changes in CO2
A new study was published in Science Advances that suggests that specific equilibrium climate sensitivity (that is the change in the global mean surface temperature for a given change in radiative forcing) actually changes over the course of glacial-interglacial cycles. By combining temperature sensitive proxy records with paleoclimate model simulations a systematic change was found with higher sensitivity when the background climate state is warmer and reduced sensitivity when the global mean surface temperature is lower.