To tell a story about current weather or to put extreme events into context, I often turn to Python. I enjoy the puzzle-like challenge and the artistry involved in transforming text or binary weather data into aesthetically pleasing plots. The following is a small gallery of some of my favorite data visualization efforts using Python.
Total Solar Eclipse | 21 August 2017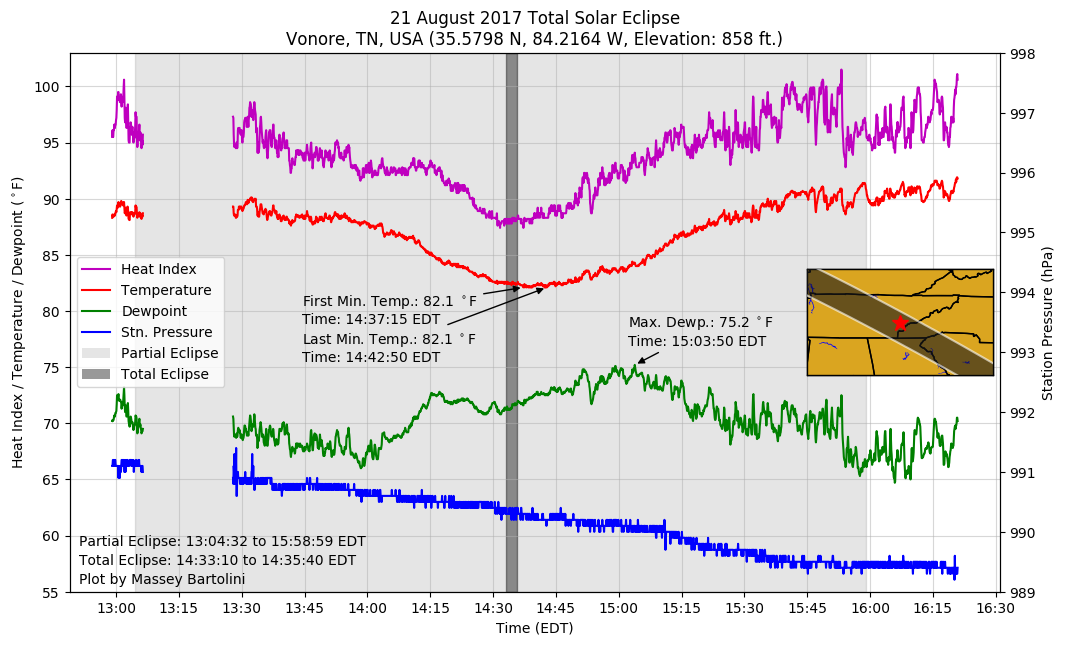 During 2017, I planned a trip to see the total solar eclipse on 21 August. I drove all the way to southeastern Tennessee to have a chance of experiencing totality in person. After an intensely pressure-packed weather forecast the night before, I chose the western foothills of the Great Smoky Mountains as the best place to see the eclipse under clear skies, since diurnal cumulus clouds seemed likely over the mountains. Fortunately, everything worked out perfectly and I was able to experience the cinematic, surreal eclipse on the banks of the Little Tennessee River in Vonore, TN. I gathered the data in this plot using my handheld Kestrel weather meter, which was hanging in the shade of a tree canopy.
GitHub code repository: Link
Winter Temperature and Snowfall Extremes | December 2017 - April 2018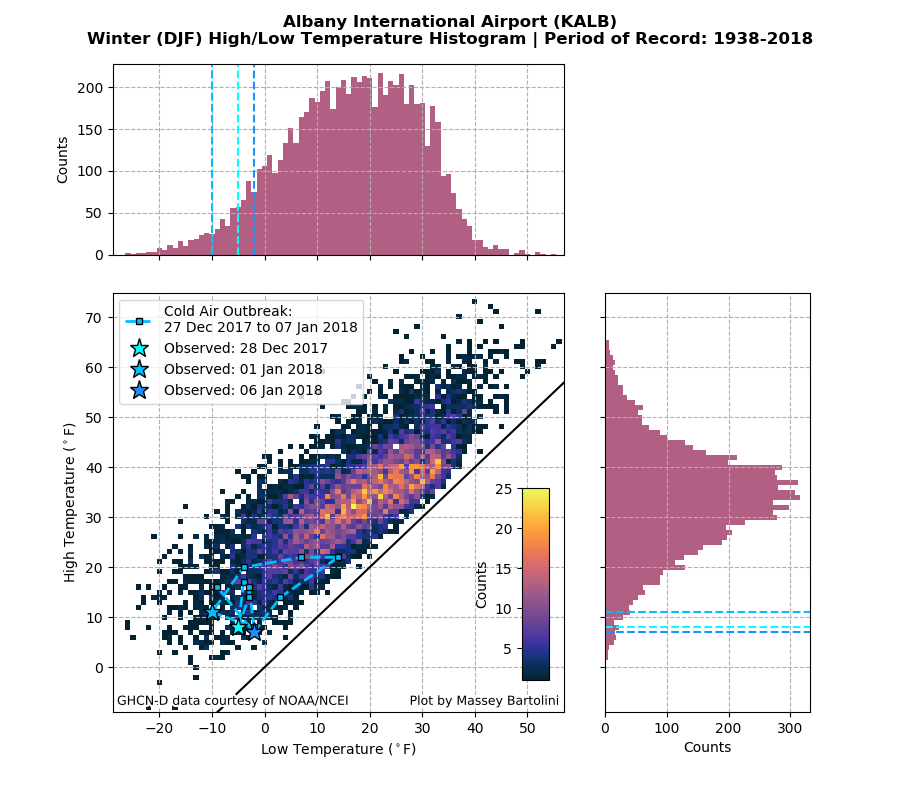 Winter 2017-2018 had several wild temperature and precipitation extremes, both cold/snowy and warm/dry. Click the image at left to view a small gallery (left/right arrow keys to view images). After a relatively late start to the snow season with the first measurable snow falling on 9 December, winter began in earnest around the holidays with a prolonged cold air outbreak around New Year's. I experienced my coldest temperatures ever (down to -10 F) during this cold snap. We got a brief reprieve from the cold with a huge surge of record warmth in late February (for the second consecutive year). As impressive as the high of 73 F was for Albany on 21 February, it was nearly eclipsed by an amazing 3.9 inches of snow the following day on 22 Febuary, an extreme weather pattern more reminiscent of early spring.
Despite the tease of warmth in February, spring was ultimately slow to arrive. Following a sudden stratospheric warming in mid-February, an abrupt pattern change caused March to turn cold and stormy across the Northeast U.S. with several back-to-back extratropical cyclones along the East Coast. Due to the storms, Albany had a prolific period of heavy March snowfalls, resulting in the third-snowiest March ever recorded (snowiest March in 102 years). This cold pattern continued into April, with lingering below-normal temperatures (record low of 19 F tied on 8 April and a few high temperatures in the 30s until 15 April). Consistent spring-like temperatures finally arrived by late April.
GitHub code repository: Link