Mind the Gap
Why a Workshop?
Weather, water, and climate impact nearly every sector of the economy and nearly every citizen of the United States. In an effort to meet the changing needs and concerns of all sectors in the Weather, Water, and Climate Enterprise, synergistic linkages between government entities, private sector organizations, and universities have developed and grown over the last several decades.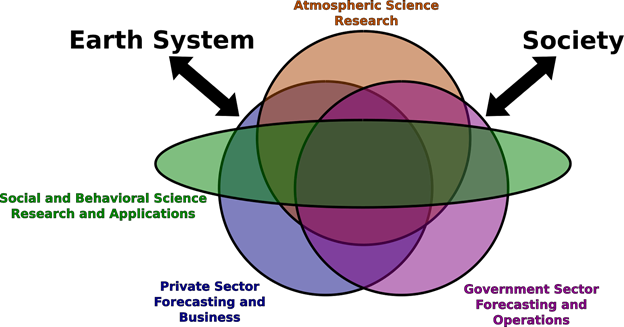 Recent analyses suggest that jobs in atmospheric science will grow at a faster rate than the average for all occupations between 2016–2026 (e.g., Bureau of Labor Statistics 2016). More specifically, the Bureau of Labor Statistics (2016) job outlook for atmospheric scientists highlights that the "best job prospects for meteorologists are expected to be in private industry."
In many meteorology and atmospheric science programs, students interested in private sector careers experience a gap between the curricular examples and pedagogical tools they see, and the skills/background needed for employment. The 2019 NSF-sponsored workshop titled "Mind the Gap" developed a set of recommendations to address this gap. One key recommendation was to develop pedogogical tools or modules that could be implemented in preexisting atmospheric science core courses to be designed in partnership with relevant private and academic sector representatives and to be integrated into existing course syllabi, preferentially in core courses identified by the AMS standards.
This workshop will facilitate collaboration between academia and the private sector to develop pedagogical modules, tools, and datasets to promote future innovations within the weather, water, and climate enterprise. Specifically, this workshop will focus on undergraduate education, but might be suitable for cross listed undergraduate/graduate level coursework.
Useful Links
The Mind the Gap Workshop will rely on domain expertise of the participants, though it is alway useful to catch up on practices outside of your domain. The following are relevant links for workshop participants
Links of interest: