Professor Win Means Receives Geological Society of America Award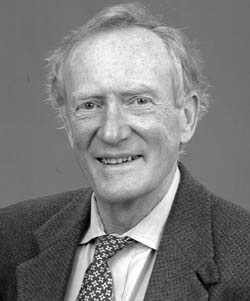 At its October, 1996 Annual Meeting in Denver, the Geological Society of America presented its Career Contribution Award for "achievements that have led to major advances in the fields of structural geology and tectonics," to Prof. Win Means of the Department of Earth and Atmospheric Sciences, University at Albany. The award is made annually and is international, though nearly all previous awardees have been American.
The Citation mentioned Means' two influential textbooks, his effective simplification of complex subjects, his invention of novel experiments, and his prominence as a reviewer for journals. The Citationist (D. DePaor, Harvard) finished his remarks by saying "It is not normal, on occasions such as this, to list a person's shortcomings in addition to their achievements. However, I must mention one of Win's failings: he has no real understanding of the value of his own work nor any appreciation of the importance of his community service contributions in our science. He may even try to tell you he has not been terribly productive or that his interests have been esoteric. Pay no attention to him!"
Means came to Albany in 1965, before the present Earth Sciences building was completed. He has served as department chairman and has long been active in University affairs.
Some of his recent work with graduate student Youngdo Park will be on display in a forthcoming, new Earth Science hall at the Smithsonian Institution in Washington. A film crew from the Smithsonian was on-campus last May for two days, to record activities in Means' microstructural geology lab for this exhibit.