Mind the Gap
Why a Workshop?
Weather, water, and climate impact nearly every sector of the economy and nearly every citizen of the United States. In an effort to meet the changing needs and concerns of all sectors in the Weather, Water, and Climate Enterprise, synergistic linkages between government entities, private sector organizations, and universities have developed and grown over the last several decades.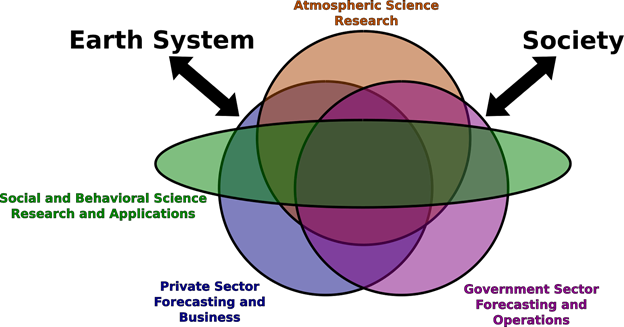 Recent analyses suggest that jobs in atmospheric science will grow at a faster rate than the average for all occupations between 2016–2026 (e.g., Bureau of Labor Statistics 2016). More specifically, the Bureau of Labor Statistics (2016) job outlook for atmospheric scientists highlights that the "best job prospects for meteorologists are expected to be in private industry."
To address the expanding reach of atmospheric sciences, current American Meteorologicial Society guidelines on a Bachelor's Degree in Atmospheric Science, lists among other things, software development experience, enrollment in business courses, and exposure to data analytics and machine learning, as relevant educational pursuits that better prepare students for successful private sector careers.
In recent years, the changing private sector landscape in atmospheric sciences has exposed existing gaps in the education and preparation of the atmospheric science workforce and the skillsets needed for private sector employment. Students and faculty from a variety of meteorology programs have expressed that there is a lack of awareness regarding existing private sector career opportunities and the requisite skillsets to pursue those careers.
How can academic departments and programs work with the private sector to better prepare students for the wide ranging career opportunities in atmospheric science? This workshop is organized around finding answers to this question.
Useful Links
The Mind the Gap Workshop will rely on domain expertise of the participants, though it is alway useful to catch up on practices outside of your domain. The following are relevant links for workshop participants
Links of interest: